Senate-Passed Great American Outdoors Act Heads to the House
On June 17, the Senate passed S. 3422, the Great American Outdoors Act (GAOA) by a strong bipartisan vote of 73-25. Among other things, this landmark legislation would address the $20 billion maintenance backlog on America's public lands and waters, as well as fully fund the Land and Water Conservation Fund.
"The powersports industry, including motorcycle, dirt bike, ATV, and side-by-side enthusiasts appreciate the Senate's bipartisan support in passing the Great American Outdoors Act," said Erik Pritchard, president and CEO of the Motorcycle Industry Council, Recreational Off-Highway Vehicle Association, and the Specialty Vehicle Institute of America. "GAOA will boost recreation opportunities and the economy by helping powersports dealerships across the country, as well as thousands of manufacturing employees in states like Georgia, Iowa, Nebraska, Michigan, and Minnesota for our member companies. I look forward to swift approval of the bill by the House of Representatives in the coming weeks."
The measure is now in the House and with a vote expected in late July. ARRA continues to take an active role on this landmark legislation and has reached out to the House leadership and a number of Congressional offices urging for support and swift passage of the GAOA.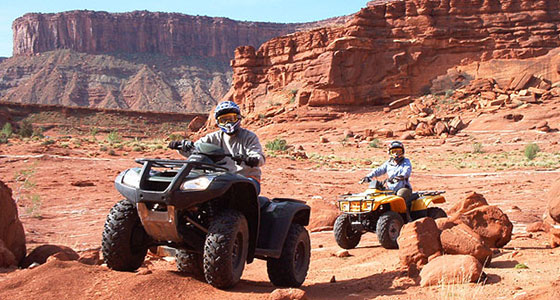 Photo courtesy of Moab Tour Company (from discovermoab.com)
RTP Included in House-Passed $1.5T Infrastructure Bill
The Recreational Trails Program (RTP) Full Funding Act of 2020 (H.R. 5797) was part of the recently passed $1.5 trillion infrastructure bill (H.R. 2) by the House. H.R. 2, known as "The Moving Forward Act", passed by a 233-188 vote and was almost entirely along party lines. The bill would ensure that we get back tax dollars that recreational interests pay into the National Highway Trust Fund every time we fill up our motorcycles, ATVs, side-by-sides, snowmobiles, 4X4s, etc., and it could provide nearly three times the amount of funding for recreational trails than the current RTP formula.
The measure now moves to the Senate where leadership has referred to the bill to be a 'partisan wish list'. The primary sticking point is a lack of consensus on how to pay for the $1.5 trillion legislation. Furthermore, upon passage, the White House threatened to veto the bill, saying it would "disproportionately benefit America's urban areas" and divert money from the Highway Trust Fund to transit and rail projects that "have seen declining market shares in recent years."
Nominate 2020 Recreational Trails Program Awards
The Coalition for Recreational Trails (CRT) is seeking nominations for outstanding projects that utilized funds from the Recreational Trails Program (RTP). If you would like to nominate any completed and worthy RTP projects, click here to fill out a nomination form by July 31.
Please take the time to recognize and promote significant contributions to trail-related recreation that the Recreational Trails Program is supporting all across the country. The recognition of great projects will elevate the profile of the RTP with members of Congress and emphasize the need for continued funding.
States Continue to Increase Recreational Access
As states continue to reopen, they are increasing recreational access to roads, trails, picnic areas, restrooms, and wilderness. The Bureau of Land Management (BLM) continues to work with federal, state, and local authorities to closely monitor the COVID-19 pandemic and use a phased approach to increase access on a case-by-case basis. The following recreational areas were reopened in June:
Yosemite National Park increased recreational access to the Yosemite Wilderness for those with an existing wilderness permit reservation and to those with an existing Half Dome permit.
Grand Teton National Park began its Phase 2 Reopening by increasing access to visitor services, campgrounds, visitor cabins, convenience stores, takeout food service, river and lake boating, secondary road access, limited visitor centers, backcountry permits, some special-use permits, and entrance stations.
Sequoia and Kings Canyon National Parks began Phase 1 reopening by increasing recreational access to roads, trails, picnic areas, restrooms, and wilderness backpacking with reservations.
Arcata, CA – Recreation sites in the King Range National Conservation Area, including the Lost Coast Trail, reopened to the public. Included in the reopening plans are the Mattole, Nadelos, Wailaki, and Tolkan campgrounds and all trailheads.
Albuquerque, NM – El Malpais National Conservation Area (NCA) increased recreational access and services.
Taos, NM – the Rio Chama Wild and Scenic River reopened access to the Rio Chama River permit system. The Rio Chama permit group size will be decreased from 16 to 5 for current and future permits.  Also, the Río Grande del Norte National Monument (Monument) resumed day-use fee collection at the Wild River and the Orilla Verde Recreations Areas, including the Taos Junction Bridge and Lone Juniper boat ramps. Lone Juniper and Arroyo Hondo campgrounds can be used for day access.
Las Cruces, NM – Granted day use access to Three Rivers Recreation Site; Dripping Springs Natural Area; Aguirre Spring Recreation Area, Lake Valley Historic Town Site; and Soledad Canyon.
Roswell, NM – BLM reopened vault toilet facilities at Rob Jagger's Campground and Cave Campground as well as Haystack Mountain Off-Highway Vehicle (OHV) Area and Mescalero Sands OHV Area.
Farmington, NM – Simon Canyon Recreation Area (day-use and camping); Brown Springs Campground (day-use and camping); and Bisti Wilderness parking area (day-use only).
Roseburg, OR – the Bureau of Land Management (BLM) Roseburg District announced that Susan Creek campground and Tyee campground reopened for overnight stays, with reservations.
North Bend, OR – Coos Bay District has restored overnight access to its campgrounds in Coos, Douglas, and Curry counties. Overnight camping is again permitted.