Outdoor Recreation Continues to Fuel Economy
Despite economic challenges brought on by COVID-19, a recent report from the Department of Commerce's Bureau of Economic Analysis (BEA) calculated that outdoor recreation generated $689 billion in gross output and 4.3 million jobs in communities across the country during a year of shutdowns and closures. Motorcycle and ATV riding was the fourth largest, and snow activities were sixth among the nation's most popular outdoor activities.
"Sales of motorcycles, ATVs, and side-by-sides were up considerably in 2020, and that trend is continuing in 2021," said Erik Pritchard, President and CEO of the Motorcycle Industry Council. "More families and individuals are recreating outdoors close to home, which highlights the need to support expanded access to public lands and investments into recreation infrastructure."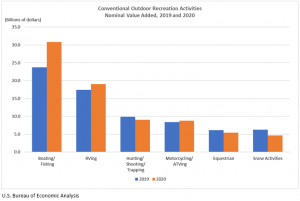 In 2020, conventional outdoor recreation accounted for 37.4 percent of U.S. outdoor recreation value-added, compared with 30.6 percent in 2019. Before 2020, the outdoor recreation economy grew faster in every sector and surpassed industries such as mining, utilities, farming and ranching, and chemical products manufacturing. The recent data highlights how the outdoor industry continued to flourish, despite widespread public land and business closures, suspended travel, and gathering restrictions in communities across the country during the pandemic.
CRT Awards Honors Outstanding Trail Projects and Program
The Coalition for Recreational Trails (CRT) Awards, honoring former U.S. Representative Tom Petri, selected 12 trail projects and a state trail program for outstanding use of Recreational Trails Program (RTP) funds at their virtual ceremony on November 10th.
The 2021 CRT Virtual Awards had solid viewership and Reps. Josh Gottheimer (D-5th-NJ), Glenn Thompson (R-15th-PA), Mark Amodei (R-2nd-NV), Pete Stauber (R-8th-MN), and Sens. Jacky Rosen (D-NV), and Jeff Merkley (D-OR) provided pre-recorded congratulatory videos for their constituent award winners.
The following trail projects and award categories were honored by the CRT:
Doty Bridge Replacement (Michigan) – Multiple-Use Management/Corridor Sharing
Prison Hill Recreation Area (Nevada) – Community Linkage
Statewide Fourteeners Maintenance (Colorado) – Maintenance and Rehabilitation
Neahkahnie Mountain to Manzanita Trail (Oregon) — Maintenance and Rehabilitation
Chautauqua Bottoms Accessibility Upgrades (Illinois) – Accessibility Enhancement
Griffith Peak Trail Rebuild (Nevada) – Public-Private Partnerships and Access to/Use of Public Lands
Vermillion Falls Trail (Minnesota) – Construction and Design
Climax Tunnel Rehabilitation (Pennsylvania) – Construction and Design
Evans Creek (Washington) – Youth Conservation/Service Corps
Sign Language Saturday (Arizona) – Education and Communication
Bridge Buttress Trail (West Virginia) – Enhancement of Federal Lands
Waterloo Valley Trail Bridge (New Jersey) – Engaging Public-Sector Partners
The CRT honored the Maryland State Recreational Trails Program as the 2021 Outstanding State Recreational Trails Program. State award winners are selected by the National Association of State Park Directors Awards Committee because, in most states, the state park agency administers the RTP.
If you missed the live virtual ceremony, click here to view the 2021 CRT Awards.
Congress Passes Bipartisan Infrastructure Bill
On November 5th, after months of internal deliberations and strife among Democrats, the House passed the $1.2T bipartisan infrastructure package, delivering on a central focal point of President Biden's domestic agenda. For several years Washington has talked about passing an infrastructure bill, but it was finally achieved. In August, legislation passed the Senate but was stalled in the House as Democrats tried to negotiate a deal on a separate $1.9 trillion economic "soft infrastructure" package that they titled the "Build Back Better" bill. The bipartisan Infrastructure package included reauthorization of the Recreational Trails Program (RTP), but it leaves the RTP annual funding at $84,000,000 rather than the $147M boost in RTP funding ARRA members had advocated for. Nonetheless, we are pleased that this important trail funding source will be available to all 50 states and the District of Columbia for five more years!
Some key components of the package included $100B for roads, bridges, and major projects, $11B for transportation safety, and $7.5B for a nationwide network of plug-in electric vehicle chargers. On November 15th, President Biden signed the package into law (Public Law No: 117-58).
Recent BLM Activity
Redding, California – Sections of the Sacramento River Rail Trail and Middle Creek Trail near Redding were temporarily closed in November while BLM crews built fuel breaks and removed potentially hazardous trees along the trail. Each closure was in place for about 10 days and trail sections were closed sequentially as project work was completed. The closures were in place while work took place from 6 a.m. to 5 p.m., Monday through Friday, beginning Monday, November 8th, and continuing into early December. The trails will be fully open during the weekends.
Doyle, California – Up to 400 riders participated in a series of motorcycle races Saturday and Sunday, November 13-14, at the Fort Sage Off-Highway Vehicle Area near Doyle. Trail access was available only to participants while the races were underway. The pit area and start/finish line was accessible only to participants and their support teams. "We are pleased to provide this site for competitive dirt bike riders," said Emily Ryan, Manager of the Bureau of Land Management Eagle Lake Field Office in Susanville. "We have developed a racecourse that will avoid vehicle impacts to areas burned in recent wildfires; the racecourse provides challenges for the riders and avoids areas where grasses and shrubs are coming back." The Fort Sage event was organized by Division 36 of the American Motorcyclist Association and Cross-Country Promotions, which holds a special recreation permit from the BLM. The organizers provided course marshals, and the BLM will provided law enforcement rangers and staff to help monitor the event.
El Dorado Hills, California – The BLM lifted most seasonal fire restrictions, effective immediately, to allow campfires and target shooting on public lands managed by the Bishop, Central Coast, Mother Lode, and Ukiah field offices in Central California. The easing of seasonal fire restrictions applies to BLM-managed public lands located primarily in Amador, Calaveras, Colusa, El Dorado, western Fresno, Glenn, Inyo, Lake, Marin, Mariposa, Mendocino, Mono, Monterey, Napa, Nevada, Placer, Sacramento, San Benito, Santa Cruz, San Joaquin, Solano, Sonoma, Stanislaus, Sutter, Tuolumne, Yolo, and Yuba counties. BLM seasonal fire restrictions for the Eastern Sierra Region are being eased in close coordination with the Cal Fire San Bernardino/Inyo/Mono Unit, the Inyo National Forest, and the Mono County Sheriff's Office. Year-round statewide fire restrictions, issued on April 28, 2020, remain in effect.
Palm Springs, California – The California Desert District lifted seasonal fire restrictions, effective immediately, to allow campfires and target shooting on BLM-managed public lands in Los Angeles, Orange, San Bernardino, Riverside, Imperial, southern Inyo, eastern Mono, San Diego, and eastern Kern counties.