Outdoor Recreation Economy Bounce in 2021!
On November 9, the U.S. Department of Commerce's Bureau of Economic Analysis (BEA) confirmed what many in the outdoor recreation community suspected: America's entire outdoor recreation industry had a record-breaking year in 2021. According to the BEA, the new data shows that outdoor recreation generates $862 billion in economic output and 4.5 million jobs (3% of employment), and inflation-adjusted gross domestic product for the outdoor recreation economy increased 18.9 percent last year, easily topping the 5.9 percent increase for the overall U.S. economy.
The BEA listed motorcycling and ATV riding (which includes side-by-sides) as the nation's fourth largest "conventional outdoor recreation" activity for 2020-2021, with $8.1 billion in current-dollar value added for the economy – up from $7.3 billion the previous year. Snowmobiling (included in snow activities) had $2.2 billion in current-dollar value added, and Climbing/Hiking/Tent Camping had $5 billion in value added.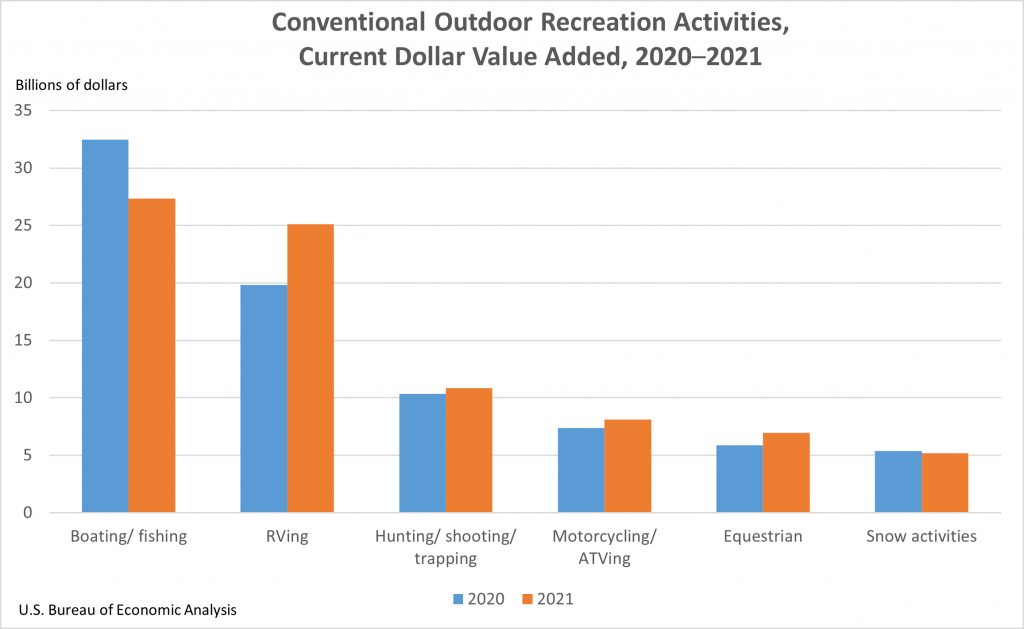 "To those of us in the powersports industry, these are not surprising numbers. We've seen outdoor recreation giving a real boost to America's economy during the pandemic as more people throw a leg over a motorcycle or ATV, or get behind the wheel of a side-by-side to enjoy family time in the beautiful outdoors," said Erik Pritchard, President and CEO of the Motorcycle Industry Council. "The BEA data confirms that communities large and small, from all corners of America, benefit from outdoor recreation. We're proud to be part of the responsible recreators who are generating nearly a trillion dollars in economic value across the country."
"These new numbers from the BEA demonstrate beyond a doubt exactly how the outdoor recreation industry has created a strong and resilient base to our country's economy," said Mike Passo, Executive Director of American Trails. "Trails of all stripes, including motorized, hiking, biking, equestrian, and water trails, form the base upon which the outdoor recreation economy is built. American Trails is proud of all that trails do for our country—they move hearts, people, communities, and economies."
"Outdoor recreation has been a bright spot throughout the pandemic – and continues to show growth," said Christine Jourdain, Executive Director, American Council of Snowmobile Associations.  "The recent BEA data confirms what the outdoor recreation enthusiasts have known, life is better when you're outdoors having fun with friends and family."
On November 15, the Outdoor Recreation Roundtable hosted a reception in the Kennedy Caucus Room, Russell Senate Office Building, to celebrate the data released by BEA. The event was well attended by representatives from the outdoor recreation community, members of Congress, and staff. Senators Manchin (D-WV), Heinrich (D-NM), and Braun (R-IN) spoke about their passion for outdoor recreation and the need for bipartisan efforts to advance outdoor recreation legislation. Additional speakers included Mark Keam, Deputy Assistant Secretary, U.S. Department of Commerce International Trade Administration; Glenn Hughes, President, American Sportfishing Association; Luis Benitez, Vice President for Government Affairs and Global Impact, VF Corp; and J. Daryl Anthony, Director, Maryland Office of Outdoor Recreation.
ARRA and Its Members Comment on the Buy America Requirements
In an effort to maximize the use of American-made products and materials in all federally funded projects, the Department of Transportation (DOT) was seeking comments regarding the narrowing actions recommended on the "Buy America" requirements and whether a waiver of the requirements and related domestic preference statutes should be granted in the public interest.
The "Build America, Buy America Act," which was part of the historic Bipartisan Infrastructure Bill (BIL), requires that all iron, steel, manufactured products, and construction materials used in infrastructure projects are produced in the United States. The DOT is proposing to use its authority under Section 70914(b)(1) of the Act to waive the Buy America preferences for such materials under a single financial assistance award for which:
The total value of the non-compliant products is no more than the lesser of $1 million or 5% of total allowable costs under the Federal financial assistance award;
The size of the Federal financial assistance award is below $500,000; or
The non-domestically produced miscellaneous minor components comprise no more than 5 percent of the total material cost of an otherwise domestically produced iron or steel product.
ARRA supports efforts by the FHWA to reduce the administrative burden and strongly encouraged the U.S. DOT to exercise its authority under Section 70914(b)(1) to waive the Act's Buy America preferences. Supporting the narrow waiver allowing "size of the Federal financial assistance award is below $500,000" will ensure that recreational trail managers will have access to equipment and materials that are so desperately needed for continued trail development and maintenance, while also allowing DOT to fulfill their mission of providing critical infrastructure,  job opportunities, and economic growth across America.
Supporting the waiver is crucial to the outdoor recreation community because government funding sources like the Recreational Trails Program (RTP) administered by the Department of Transportation's Federal Highway Administration (FHWA) and the recently passed Infrastructure Investment and Jobs Act (IIJA) support developing, maintaining, and protecting trails for recreational activities.
"The RTP is instrumental in maintaining meaningful recreation opportunities. The Buy American Requirement within RTP requires a review of its policy for fair implementation," said Fred Wiley, President and CEO, the Off-Road Business Association. "As a trade association, we will continue to review and comment on policy implementation to benefit businesses and recreationists across the country."
ARRA members that submitted comments include, American Council of Snowmobile Associations, the American Motorcyclist Association, American Trails, the Off Road Business Association, Tread Lightly!, MIC SVIA, ROHVA, and UP! Outside.
U.S. Forest Service Launches Interactive Map
As part of its 10-year wildfire crisis strategy, the U.S. Department of Agriculture's Forest Service has launched a new interactive map showing the progress the agency and its partners have made in addressing the wildfire crisis in eight western states. The map allows users to see the impact of the historic investments from President Biden's Bipartisan Infrastructure Law across ten initial landscapes in Arizona, California, Colorado, Idaho, Montana, New Mexico, Oregon, and Washington.
"Western states are living the reality of climate change every day, where record droughts and catastrophic fire threaten lives and livelihoods like we have never seen in our history," said Agriculture Secretary Tom Vilsack. "This new resource gives everyone a chance to see the real impacts of the on-the-ground work the USDA Forest Service and its partners have already done to protect the communities and the resources that are most at risk."
The online interactive map is easy to use. It is continually updated to show the progress of wildfire reduction efforts on national forests, grasslands, and other federally managed, state, and private lands. More importantly, individual landscape maps allow users to identify national forests, Congressional Districts, active partners, landscape boundaries, and "firesheds," or areas where wildfire is likely to pose the greatest risk to communities and resources.
 Recent BLM Activity
Redding, California – The BLM began working to remove dead trees and brush this fall and winter in the Swasey Recreation Area to improve public safety and fire resiliency. The Swasey Recreation Area, between Swasey Drive and Muletown Road in west Redding offers 30 miles of dirt trails for varying levels of hikers and mountain bikers. Mountain bikers and hikers may find some trail access restrictions as crews work in the area. Crews began the work on November 8, and are working along trails from the eastern parking area. Signs will mark trail segments affected by work and access limitations.
Palm Springs, California – The BLM will implement a temporary closure of public lands from February 2 –12, 2023, in the Johnson Valley Off-Highway Vehicle Recreation Area, San Bernardino County, during the annual 2023 King of the Hammers desert race event. The race is authorized by a BLM Special Recreation Permit and the temporary closure is necessary to facilitate public safety and provide an enhanced recreation experience for event participants and spectators. The BLM has approved a five-year public land closure for up to 10 days a year through 2027. Registered race spectators, participants, and race officials are exempt from the closure.  Approximately 81,000 acres of the Johnson Valley OHV Recreation Area will be temporarily closed to public use and approximately 46,000 acres will be available for public use during the event.