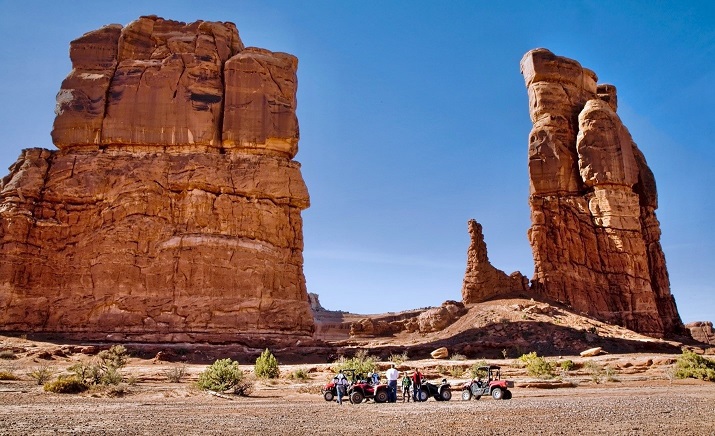 ROV Noise Concerns Prompt New Restrictions in Moab, UT
On Oct. 20, the Grand County Commission and City of Moab held a joint meeting to vote on three joint resolutions affecting all-terrain vehicles (ATVs). The impetus for the meeting was the record number of public comments objecting to noise impacts from ATVs. There has also been a recent increase in business license applications in the City and County for sales, rentals, and licensing of ATVs and related guide services that serve non-residents. The rapid growth of ATV rentals and tours has resulted in a sharp increase in noise impacts to the residents of the City and County. "We need to reduce the volume by reducing the volume of the number of ATVs, of the recreational vehicles that are driving on our city streets," said Emily Niehaus, Mayor of Moab.
Although the County and City received comments from industry organizations with their intent to compromise on the issue, the proposal being put forward is one of the tools to address the noise issue. To address the noise issue, County and City officials voted on the following joint resolutions:
Joint Resolution #1 – To impose a temporary moratorium on issuing new business licenses for the sale, rental, or leasing of all-terrain vehicles (ATVs) for commercial outdoor recreational uses involving an ATV, and ATV outfitting, guiding, and touring. To impose a temporary moratorium on issuing new special events permits for all-terrain vehicle vendors, associations, and groups. Passed 5-1 by the County Commission and 4-1 by the City of Moab.
Joint Resolution #2 – Approving ordinance to establish speed limits for off-highway vehicles (OHV), not including motorcycles, in the City of Moab for 15 mph on city streets. Passed 4-1 despite acknowledging they do not have the resources to enforce the speed limit.
Joint Resolution #3 – Approving ordinance to establish speed limits for off-highway vehicles (OHV), not including motorcycles, in Grand County (10 mph slower than the posted speed limit). Passed 4-2.
For the record, the Specialty Vehicle Institute of America (SVIA) and the Recreational Off-Highway Vehicle Association (ROHVA) submitted their policy to County and City of Moab officials stating their opposition to on-road use of ATVs and side-by-sides.
ARRA Requests Partners Identify LWCF-Eligible OHV Projects
Americans for Responsible Recreational Access (ARRA) is working with the Outdoor Recreation Roundtable (ORR) to build a comprehensive list of Land and Water Conservation Fund (LWCF)-eligible recreation projects for funding through the Great American Outdoors Act (GAOA). With the passage of GAOA this summer, the outdoor recreation community has an unprecedented opportunity to have its voice and priorities carried out through LWCF and the maintenance backlog.
ORR has asked members of the outdoor recreational community to show the diverse array of projects across the country that will get more people outside, create recreation economies, and grow the industry for years to come. ORR has created a survey to capture as much information as you can share about LWCF projects that would benefit your business, recreation activity, or community.
The short survey asks for basic project information, recreation activities it would support, and context about the project's development to date. The more information you can provide, the better we can advocate for these projects with policymakers. Please share as many projects as you are able by retaking the survey—it is so helpful for us to have this kind of on-the-ground knowledge.
Click here to complete the survey before the Nov. 13 deadline.
2020 Tom Petri Annual Achievement Awards
On Oct. 22, the Coalition for Recreational Trails (CRT) celebrated the virtual 2020 Tom Petri Annual Achievement Awards. The awards, honoring former U.S. Representative Tom Petri (WI) recognize outstanding use of Recreational Trails Program (RTP) funds. In past years, the CRT Awards ceremony is an in-person event in Washington, D.C. However, due to COVID-19, the awards were a virtual event this year.
The CRT Board of Directors were delighted with the number of quality projects nominated and had a difficult time making their final decisions. The 2020 project award categories included: construction and design; maintenance and rehabilitation; public-private partnerships and access to public lands; community linkage; education and communication; accessibility enhancement; multiple-use management and "corridor sharing"; use of youth conservation/service corps and community outreach; engaging public-sector partners; and enhancement of federal lands.
"It was wonderful to see the program and learn about all the projects and the fact that many of them are using the federal program to leverage local and state funds and also a lot of volunteer and private sector contributions to make these trails and recreational projects possible," said former U.S. Rep. Thomas Petri. "This has been great fun and it's wonderful to see the enthusiasm by local and state officials, volunteers, program coordinators, and all the others who participated in this program. My hats are off to you and you are doing a tremendous job."
Created by Congress in 1991, the Recreational Trails Program (RTP) puts these tax dollars towards trailhead facilities, trail construction and maintenance, environmental education materials, and more. RTP unites and benefits various trail users, including equestrians, hikers, bicyclists, cross-country skiers, joggers, and even water trail enthusiasts in kayaks and canoes. Since 1993, more than 25,000 projects have been funded through the RTP.
The following 12 trail projects and their categories were honored by the CRT:
Pine Street Woods (Idaho) – Multiple-Use Management and Corridor Sharing
Gwinnett Countywide Trails Master Plan (Georgia) – Community Linkage
Cal-Ida Connector Trail (California) – Maintenance and Rehabilitation
Boardwalks and Observation Deck Rehab/Replacement (South Carolina) – Accessibility Enhancement
Trailhead and Trail Construction in the Shawnee National Forest (Illinois) – Public-Private Partnerships and Access to/Use of Public Lands
Thurston Hills Natural Area Trail Project (Oregon) – Public-Private Partnerships and Access to/Use of Public Lands
Milan Trail Huggers Nash Stream Bridge (New Hampshire) – Construction and Design
Blue Ridge Tunnel Rehabilitation and Trail Project (Virginia) – Construction and Design
Monadnock Trail Improvement Project (New Hampshire) – Youth Conservation/Service Corps and Community Outreach
Nevada's Outdoor School's Outdoor Ethics Program (Nevada) – Education and Communication
Sam Houston National Forest—Eastside Multi-Use Trails Rehabilitation (Texas) – Enhancement of Federal Lands
Maricopa Trail Volunteer Stewardship Program (Arizona) – Engaging Public-Sector Partners
Click here to see a replay of the virtual 2020 Tom Petri Annual Achievement Awards.
States Continue to Increase Recreational Access
As states continue to reopen from COVID-19 restrictions, they are increasing recreational access to roads, trails, picnic areas, restrooms, and wilderness. The Bureau of Land Management (BLM) continues to work with federal, state, and local authorities to closely monitor the COVID-19 pandemic and use a phased approach to increase access on a case-by-case basis.
The following recreational areas reopened in October:
Bakersfield, CA – The Bureau of Land Management Bakersfield Field Office reopened the San Joaquin River Gorge Special Recreation Management Area in Fresno and Madera counties due to easing of wildland fire risk from the Creek Fire. The area reopened to the public on Oct. 25, for hunting, hiking, biking, horseback riding, and camping.
Bishop, CA – The Bureau of Land Management Bishop Field Office reopened a portion of public lands in Mono County that were closed due to the effects of the Slink Fire.
Doyle, CA – Up to 200 riders are expected to participate in a series of motorcycle races Saturday and Sunday, Nov. 14-15, at the Fort Sage Off-Highway Vehicle Area near Doyle. Trail access will only be available to participants while the races are underway.
According to BLM, dry conditions due to a lack of precipitation this spring, above-normal temperatures, and mats of unburnt fuel from last year are resulting in an above-normal fire potential. BLM issued fire restrictions to the following areas:
Meeker, CO – The White River and Little Snake field offices, along with Moffat and Rio Blanco counties, reverted from Stage 2 to Stage 1 fire restrictions on Wednesday, Sept. 30. The Colorado River Valley Field Office and Kremmling Field Office in Eagle County remain in Stage 1 restrictions, while Kremmling Field Office in Grand, Jackson, Routt, and Summit counties remain in Stage 2 fire restrictions.
Lake Havasu City, AZ – Unusually warm and dry conditions persist in Arizona, and fire activity continues across the state. As outdoor recreation increases in the Colorado River District, public lands users are reminded that BLM lands in western Arizona remain under fire restrictions.
Las Vegas, NV – While conditions allowed statewide fire restrictions to change across the rest of the state, hot, dry weather remains in Southern Nevada and fire restrictions remain in place on public lands managed by Bureau of Land Management, Bureau of Reclamation, Clark County, Mt. Charleston Fire Protection District, National Park Service, Nevada Division of Forestry and U.S. Fish and Wildlife Service.
George, AZ— Dry conditions have urged fire managers to remind the public that Stage 2 fire restrictions on public lands managed by the Bureau of Land Management (BLM), Arizona Strip District are still in effect.
Medford, OR – As the weather continues to stay warm and red flag warning persist, the Bureau of Land Management Medford District is reminding the public that we are still in Moderate Fire Danger and that public use restrictions are still in effect on BLM-managed lands in southern Oregon.
BLM has issued temporary closures for:
Medford, OR – In coordination with the incident commander on the South Obenchain Fire, the Bureau of Land Management is reducing the size of the public lands closure area related to the South Obenchain fire. Fire managers want to remind the public that suppression and repair activities are still ongoing and they have seen increased public activity in the burn area. Public access in and around the fire poses a safety concern for the public and firefighters.
Kremmling, CO – The Bureau of Land Management Kremmling Field Office issued an emergency closure for the North Sand Hills Special Recreation Management Area and other BLM lands near the Mullen fire. As the fire continues to spread in northwest Colorado, this closure will ensure public safety, allowing firefighters to focus on fire suppression efforts.
Marina, CA – The Bureau of Land Management Central Coast Field Office extended the annual vehicle closure for the Panoche and Tumey Hills recreation areas in San Benito County to Friday, Nov. 13, due to extreme wildland fire danger. The vehicle closure may be lifted sooner if conditions allow and fire danger subsides. Both recreation areas remain open for hiking, hunting, and bicycling.
Wenatchee, WA – The BLM Wenatchee Field Office is scheduled to close the Umtanum recreation site on October 26, 2020, through May 14, 2021, for construction on the suspension bridge and parking lot paving.
Canon City, CO – Due to unseasonably dry conditions and extreme wildfire activity across the northern Front Range, all BLM-administered lands in Boulder and Larimer counties managed by the Royal Gorge Field Office will be temporarily closed to entry.
BLM has lifted fire restrictions for the following areas:
Spokane, WA – The Bureau of Land Management (BLM) Spokane District has lifted the regulated fire closure on public lands administered by the BLM and the Bureau of Reclamation (BOR) in eastern Washington. The termination of the regulated fire closure was effective on Sept. 30, 2020, at 12:01 a.m. in the following counties: Adams, Asotin, Benton, Chelan, Columbia, Douglas, Ferry, Franklin, Garfield, Grant, Kittitas, Klickitat, Lincoln, Okanogan, Pend Oreille, Spokane, Stevens, Walla Walla, Whitman, and Yakima.
Vale, OR – In anticipation of more favorable weather conditions, Vale District Bureau of Land Management lifted fire restrictions effective Monday, Oct. 12. Campfires, charcoal grills, chainsaw use, and other industrial activities will again be allowed on Vale BLM-protected lands, including Bureau of Reclamation Lands along the Owyhee and Snake Rivers.
Hines, OR – With cooler temperatures and moisture in the forecast, officials from the Burns Interagency Fire Zone have lifted public use restrictions on the Bureau of Land Management administered lands in Harney County.
Redding, CA – The Bureau of Land Management Redding and Arcata Field Offices have eased some fire restrictions on northern California public lands, now allowing target shooting, campfires within designated campgrounds and recreation sites, and use of barbecues and portable stoves outside of campgrounds.
Moreno Valley, CA – The Bureau of Land Management reduced fire restrictions in some areas of public lands in Southern California managed by the California Desert District.
Lakeview, OR– The Bureau of Land Management (BLM) Lakeview District lifted the fire restrictions in place on public lands administered by the BLM in south-central Oregon. The fire prevention order termination went into effect on Oct. 14.