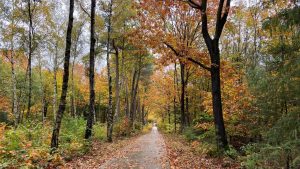 (Photo credit: Coalition for Recreational Trails)
Top Trail Projects and a Terrific State Trail Program Chosen for Special Awards
The Coalition for Recreational Trails (CRT) has selected 12 trail projects and a state trail program to be recognized next month for outstanding use of Recreational Trails Program funds. The CRT awards, honoring former U.S. Representative Tom Petri, will salute the winners at a live virtual ceremony with participation by members of Congress and several noted champions for trails.
The 2021 project award categories included: construction and design; maintenance and rehabilitation; public-private partnerships and access to public lands; community linkage; education and communication; accessibility enhancement; multiple-use management and "corridor sharing"; use of youth conservation/service corps and community outreach; engaging public-sector partners; and enhancement of federal lands.
For more than a quarter century, the RTP has provided funding for recreational trail development and maintenance across all 50 states and the District of Columbia. With more than 30,000 projects across the nation since its inception, the RTP benefits motorized and non-motorized trails for people of all interests and abilities. From motorcycles to mountain bikes, snowmobilers to cross country skiers, hikers to horseback riders, and handicapped accessible trails and facilities, RTP funds are used to design, construct, and maintain our local trails.
The CRT invites your participation in celebrating the deserving trails heroes from across the nation. The 2021 Tom Petri Recreational Trails Program Annual Achievement Awards will take place November 10 at 2 p.m. Eastern.  Click here for access to the live virtual event.
Recent BLM Activity
Sunnyvale, California – Volunteers assisted with road and trail restoration and removal of dead trees at the Fort Sage Off-Highway Vehicle Recreation Area. The work was completed during the statewide observance of OHV Safety Awareness Week, October 16-24, a promotion by California State Parks' Division of Off-Highway Motorized Vehicle Recreation Division.
Redding, California – With the return of fall weather and rain, the BLM has eased some fire restrictions on public lands managed by its Arcata and Redding field offices in Humboldt, Mendocino, Del Norte, Trinity, Shasta, Butte, Tehama, and Siskiyou counties. Easing of fire restrictions means that campfires are again allowed. Campfire permits are required outside of developed campgrounds. They are available free online at ReadyForWildfire.org and at BLM, Forest Service, and CAL FIRE offices.
Butte, Montana – The BLM's Butte Field Office lifted its closures in the Big Hole River area, which was invoked due to the Alder Creek Fire. The order signed by Butte BLM Field Manager Lindsey Babcock rescinds the previous small-scale closure for BLM-administered lands south of Highway 43 and south of the Big Hole River, to include Tie Creek Road. "We rescinded the closure on the Alder Creek fire due to changing weather conditions and lack of fire activity in the area," Babcock said.
El Centro, California – The BLM reminds the public to participate in recreational activities responsibly in the Imperial Sand Dunes Recreation Area. The BLM reminded the public this popular destination is a shared space to be actively enjoyed by many and reserving a space or "ghost camping" by leaving camp gear unattended on BLM-managed public land is prohibited. BLM Rangers increased proactive patrols throughout the ISDRA to educate individuals and deter reserving campsites by leaving unattended property.  Rangers also reinforced the 14-day camping limit, as well as illegal dumping and littering.  Offenders are subject to citations and vehicle towing at the owner's expense.
Las Vegas, Nevada – The BLM is proposing to amend the 1998 Las Vegas Resource Management Plan to designate Logandale Trails as a Special Recreation Management Area as well as develop a Recreation Area Management Plan and Travel Management Plan. A Notice of Intent was published October 22 in the Federal Register opening a 30-day public scoping period that will close on November 22, 2021. The proposed designation is consistent with the Biden administration's America the Beautiful initiative, a locally led and voluntary nationwide effort to conserve, connect, and restore 30 percent of lands and waters by 2030. One of the initiative's main goals is to increase access to outdoor recreation. Currently, Logandale Trails is primarily used for recreation and is designated as an Extensive Recreation Management Area. The Logandale Trails planning area is approximately 15,019 acres of BLM managed public lands in Southern Nevada. Adjacent lands administered by the U.S. Bureau of Reclamation and Nevada State Parks, as well as private lands, will not be included in the planning efforts.